BREAKING: Link Between De Lima At Foreign Policy Ibinisto Ng Isang Netizen
Following the awarding ceremony for the 100 Foreign Policy Global Thinkers which sent Senator Leila De Lima in Washington D.C. on Monday, a netizen had made a controversial post on Facebook that 'explains' how the lady senator made it to the list of awardees.
According to the post made by Leix Valenciano Holt on Tuesday, December 13, De Lima bagged the challenger award for standing against an extremist leader because she had help from Filipino-American businesswoman Loida Nicolas-Lewis and her network of friends.
In her post, Holt linked one of the founders of the Foreign Policy Magazine, Samuel Huntington, along with David Rothkopf, CEO and editor of the magazine, by saying that they are members of Lewis' Council on Foreign Relations (CFR).
She described CFR as
"the most powerful private organization in U.S. foreign policy"
that keeps the ruling class' power going. This elite group, according to Holt, is behind the award granted to De Lima.
The lady senator's leaving the country to accept the awards had led to speculations of escape from the law, despite De Lima's assurance that she will return.
Others theorize that this award is a move to hit the administration of President Rodrigo Duterte and his continuous yet controversial war on drugs. They believe that De Lima and Lewis are plotting against the President as both have been very vocal about their opposition to Duterte's policies.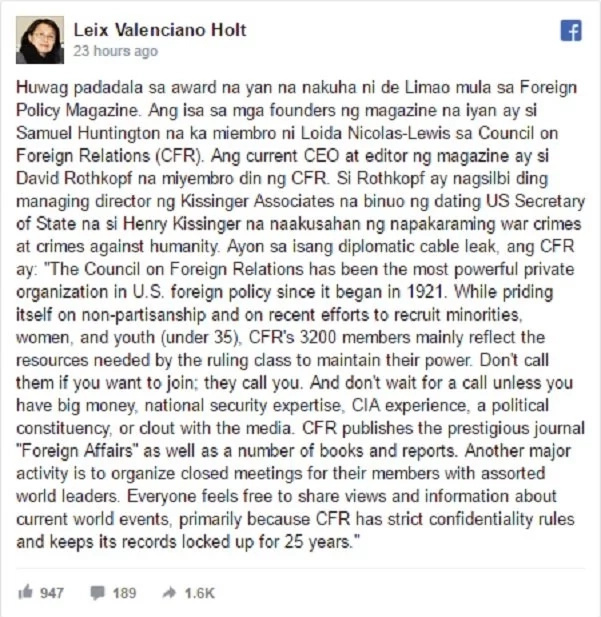 [source]
Like this article
What can you say about this story? Feel free to comment below. Please SHARE this to all your family and friends